Week 9
First round of Dolphins Vs Colts
The Miami Dolphins travel to Indianapolis this Sunday to take on the Colts at 1pm. When the schedule makers put this match up on the calendar, the NFL and sports gambling fans viewed this game as two rebuilding teams that would be fighting to stay out of the basement in the AFC. Now fast forward to the first week in November and this is a game that could potentially have huge playoff implications. The winner will have a leg up in the playoff race, and will have the all important head to head tie breaker. In addition if RT plays, which at the moment it seems like he will play, this game will also feature 2 top 10 Rookie QB picks dueling it out for the first time in their young careers. Could this be the beginning of a Peyton Manning/Tom Brady style QB rivalry?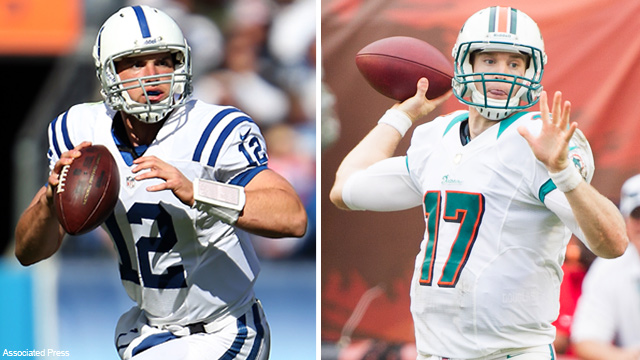 Even though the two rookie QB's, are going to take most of the headlines, the key to victory is not going to come from which QB plays better. The Colts rush defense has definitely been their weak spot this year allowing 137.4 yards per game, which has them ranked 27th worst in the league. The Phins rush attack, which started out the season on fire, has cooled off since Reggie Bush got banged up in the first Jets game. With RT questionable for the game, I think that whoever ends up playing QB tomorrow, will be doing a lot of handing off in tomorrow's game. Going up against a questionable run defense, will have Philbin and his coaching staff jonesing to revive their stagnant running game. If the Phins can average more than 3.5 yards per carry and run for over 150 yards, then they should be able to win this game. If they can't find their rushing attack I fear they may be in for a long day, and might lose in a tough road environment.
With all that being said the line started at -1 1/2 for the Phins, and quickly shot up to -3 in the beginning of the week, and this was occurring even when it was not looking to good for RT's chances of playing. Now the game is back down to Miami -2, which makes me feel like the sharp sports gambling fans pounded the Phins early at -1 1/2, because they wanted to blow the line out to 3 so they could pick the Colts at +3. Now that the line is back to -2 for the Phins, it appears that these sharp sports gambling guys have set themselves up to win both bets, because they have the Phins at -1 1/2, and the Colts at +3, so if the Dolphins win by 2 they will cash in on both bets. So my prediction is that this comes to fruition and the Phins push, and win by 2 points.