Week 4
Finally the last preseason game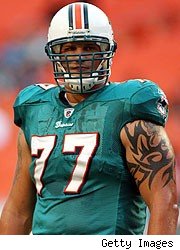 Tomorrow night at 8:30pm the Miami Dolphins will travel to Dallas to take on the Cowboys for their fourth and final preseason game. The key for both of these teams is not whether they win or lose, but rather that no one else gets injured. Both teams have had their fair share of injuries, and will be on alert to keep starters from exposing themselves to unnecessary risks.
For those of you phins fans that are unaware, yesterday pro bowl left guard Jake Long, was injured during practice. It is believed that he sprained his medial collateral ligament and could be out anywhere from 1-4 weeks depending on the severity of his injury. Obviously he will not be playing in Dallas, however, my money is on him being able to play in the opener against the Texans. Another key Dolphin player who will not suit up tonight is Karlos Dansby, who has stated that he will be ready for the first game.
It has already been announced that Ryan Tannehill will play against the Cowboys, but phins news fans should assume that he and the rest of the starters will only be in the game for 1 or 2 series max. This game is more about the non starters on the roster, that are still on the bubble, and have one last chance to prove themselves worthy to make the 53 man roster, which needs to be decided by the 9pm deadline on friday evening. WR Julius Pruitt was just cut, which means there are now 10 wideouts still vying for around 6 WR spots. So this game should go a long way to determining the 5th and 6th spots for the receiver position.
The best sportsbook on the web has the Dolphins at +2 1/2 for the game and a total of 37. For those football gambling fans that are jonesing for some action, I would suggest finding the best sportsbook on the web, which is either Acesportsbook, 5dimes, The Greek, or Bet any sports, and take a shot on the Phins getting +2 1/2. The Cowboys are even more banged up than the Dolphins, and it is telling that the Dolphins were a +3 point under dog at home against Atlanta last week, but are only a +2 1/2 point dog against the Cowboys in Dallas. I would also suggesting using the best sportsbook on the internet and picking the under 37 points for the game because with lots of 2nd and 3rd stringers playing a bulk of the minutes, football gambling fans are in for a sloppy game.