When drafting, it's no holds Barr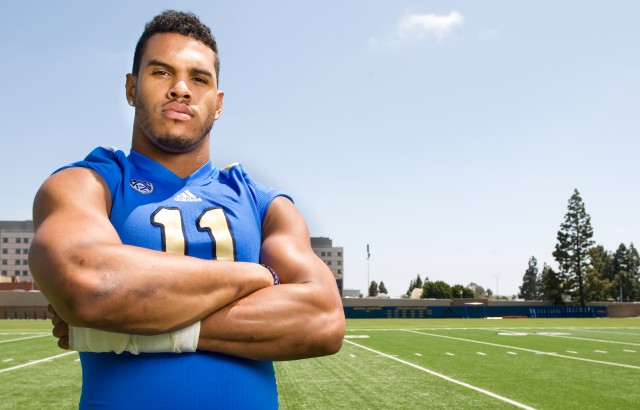 Most of the top analysts, and football gambling fans have the Miami Dolphins selecting an Offensive Lineman in the first round of the 2014 draft. If all the top offensive lineman are off the board, which may be a strong probability since the Dolphins have the 19th pick in the first round, then they should go with the BPA (best player available) approach. Regardless, of who Miami decides to pick in the first round, one thing is for certain; this kid needs to be able to play, start and contribute immediately this season. One player who should be drafted right in the 16-24 pick range, is Outside Linebacker Anthony Barr.
Barr is 6'5", weighs 255 pounds, ran a 40 time of 4.4 to 4.5 range at his pro day, and was a play making machine last year at UCLA. He totaled 65 tackles, with 20 tackles for a loss, 10 sacks, and 5 forced fumbles. He has a great burst off the snap and constantly gets pressure on the QB. He knows how to strip the ball and he pretty much lives in opponents backfields. He played against the top competition in the PAC-12, and got a sack against almost every team in the PAC-12, besides Stanford. Also these stats are not a one time anomaly, because in 2012 he changed positions from fullback to outside linebacker, and instantly became one of the nation's leaders in sacks. In 2012 he had 83 tackles with 21.5 tackles for a loss, 13 sacks, 5 passes batted and 4 forced fumbles.
This guy is a stat, play-making machine, and he would immediately become a welcomed presence in the Miami Defense. Last year our corner-backs stepped up, and starting getting their hands on some balls, but it was our linebackers that disappointed in making game changing plays. Barr has the type of skill set to be a game changing linebacker in the NFL, and if he is available, and the other stud offensive tackles are off the board, then this could be a very solid pick. One other side note is that, Antony's father Tony was drafted in 1992 by the Eagles, and he has three uncles that played in the NFL, so he definitely has the pedigree, and should have no problem adjusting to the transition of the NFL.
Comment on Facebook
comments