What went Long?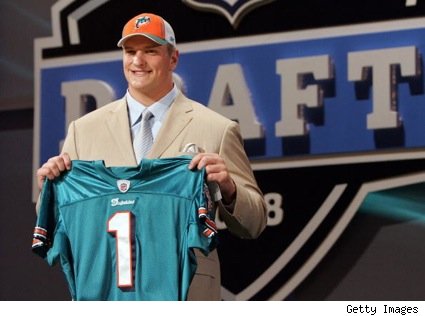 In 2008 Jake Long was selected as the number one overall pick in the draft. Now in his 5th season Long has made three pro bowls, and is considered one of the best left tackles in the game. He was even voted has the 59th best player in 2012. However after a plethora of injuries, which included a torn bicep, bad knee and back, Long appears to have regressed in his 5th season.
He has already let up multiple sacks, QB hurries, and committed unnecessary penalties at very inopportune moments. At the moment he is not playing like a pro bowler or a franchise player. All this leads to a very crucial decision that will need to be made over the offseason. His contract will be up at the end of the year, and Long and his agent will be clearly looking to make sure that he is paid similar to what Cleveland's Joe Thomas re-signed for. Thomas signed an 8 year contract worth $92 million, with $44 million guaranteed, and an average of annual salary of $11.5 per year. Personally I would say that Long has not been playing at a level to deserve such a lucrative contract. In addition, Long has a long list of injuries, so health is obviously a concern in the future, and probably has something to do with his decline in production. The catch 22 is that a banged up Long is still better than most left tackles in the game, and if he his not re-signed than this will just add one more position to the list that needs to be addressed this off season. Also with a developing young QB, the quality of his left tackle goes a long way in regards to having amble protection while he stands in the pocket.
The sports betting strategy is that this will not be an over night decision, and will take Ireland many sleepless nights to finally come up with a solution for. The one thing that will ease everyone's minds is if Long can actually start to play and perform like a franchise left tackle.

Comment on Facebook
comments