What about Garrard and Moore?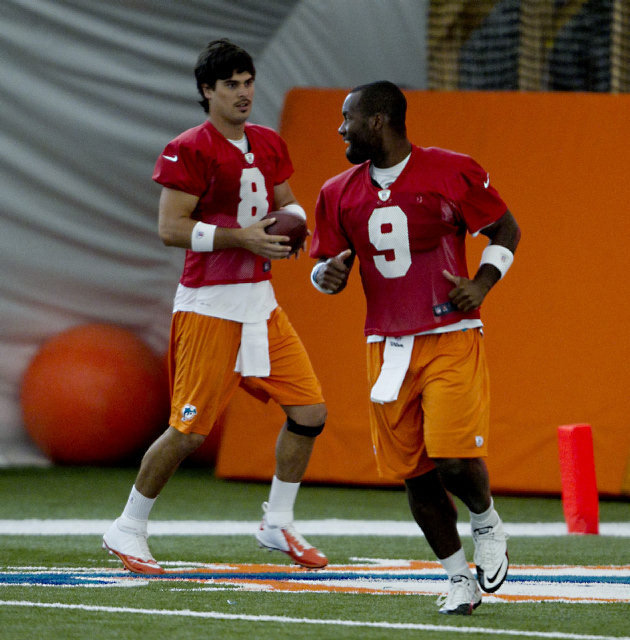 Coach Philbin stated before training camp that he would like to have his decision on the starting QB finalized before the third preseason game.  Staying true to his word, something I admire about Philbin, he has publicly announced that Ryan Tannehill will be the Miami Dolphins starting QB to open the season.  I like and agree with the move, but now the question is what will become of David Garrard and Matt Moore?
Up until a day before the first preseason game, David Garrard was in the lead of the three man QB race.  However, after a freak injury where he hurt his knee turning around while watching his kids, he has lost his grasp on the starting job, and now maybe a spot on the Miami Dolphins roster.  He had arthroscopic surgery on his knee, and the doctors say it should take around 4 weeks to recover from it.  What is going to happen when he is deemed fit to play, does he become the back up QB, and is RT suddenly given a short leash?
The other dilemma is that Garrard has a base salary of $2.75 million and Matt Moore has a base salary of $2.25 million.  Since both of these players are vested veterans, the financial issue is magnified because if they are on the team on the day of the first game, then their full base salaries are guaranteed for the entire year.  If you throw in bonuses, the total salary cap space for these two presumed backups is around $6.5 million.  For a team that is ranked in the bottom 5 of the league for using nearly all of their available cap space for the season, this seems ridiculous to waste over $6 million on two players who potentially might not even play.  I understand we need a back up, but at this cost we don't need two backups.  If I were a sports gambling man I would say either Garrard or Moore is cut before the season starts.  Since Garrard missed all of last year with a back injury, and has now had a knee injury, before he has even taken a hit, a wise sports gambling man would assume that even though he was once the leader in the QB race, it now appears that he will be the odd man out.  Also Matt Moore was very serviceable last season for the Dolphins, which proves he can step in if needed, and he has accepted the back up role with the utmost class, which is something to be said for.

Comment on Facebook
comments