To play or not to play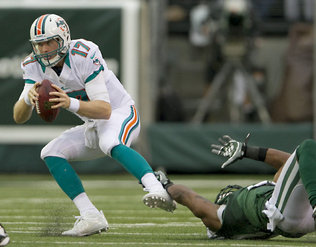 It is only Tuesday, but the Phins have a very important decision looming over the course of this week; will Ryan Tannehill play against the Indianapolis Colts or not? As all Phins news fans know, RT left the Jets game in the first quarter after sustaining a bone bruise in his left knee, and bruised left quadricep. When an MRI was taken on Wednesday, it was revealed that there wasn't any structural damage done. However, this is a delicate situation, and the Phins will want to proceed with caution in dealing with their franchise quarterback.
RT said he could have returned in the Jet game if needed, but Philbin said the thought never crossed his mind. RT has already expressed optimism twice that he would be able to play against the Colts, once in a post game chat with reporters, and once in a private conversation with Philbin on the flight back to Miami. This is a big game coming up, considering both teams have a 4-3 record, and the winner will have a clear advantage in the playoff race. However, with a solid back up in Matt Moore the Phins do have the luxury to err on the side of caution. I would love to see RT play, but I feel there is no reason to have him play if he is not fit enough. If I were a sports gambling man, I would say that RT is going to play. He seems like a tough kid, and it seems his limp has already gotten better. Regardless of what happens, Philbin has earned my confidence that he will make the right decision. If the Dolphins play like they did against the Jets, then it will not matter who we has as the starting QB on Sunday, because these guys are starting to really play like a quality team together.

Comment on Facebook
comments