TE Eric Ebron, Another BPA option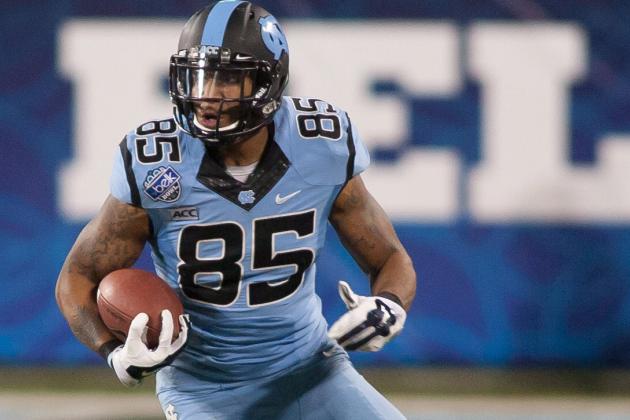 Last off-season the Miami Dolphins signed TE Dustin Keller, and many phin fans, including myself felt we finally found a viable option at the TE position. Even in mini-camp, Ryan Tannehill and Dustin Keller were making a very impressive connections. Then during a pre-season game, Keller had an horrific knee injury, that left Phins Nation speechless, and once again searching for answers at the TE position. However, all was not lost, and back up Charles Clay stepped up to the plate, and had a huge impact in some games. He showed some real fight, refusing to be tackled, and always grinding out those extra yards, but there were some games where he was completely shutdown by the other team.
Charles Clay had a real breakout season, and football gambling fans would bet that he should be able to build on that next season as well. In addition, Keller is still an unsigned free-agent, so depending on his recovery status he may even be in the mix next season, however that scenario is highly doubtful. The Dolphins also drafted Dion Sims last season, but he was sparsely used. So even though the Dolphins signed Keller last off-season, they still drafted a TE. So even though Charles Clay had a breakout season, the Dolphins may still decide to take another stab at drafting a TE this year.
This Draft has one TE that is hands down better then any other TE in the draft; Eric Ebron from North Carolina. He reminds me of a slightly smaller version of Jimmy Graham from the New Orleans Saints, whom we unfortunately passed on in the 3rd round of the 2010 draft. Ebron is 6'4", weighs 250 pounds and runs a very fast 4.60 40 time. He was the best TE in college football last season, producing long touchdowns, and dismantling teams in the middle of the field. He is a very fast, making him a  mismatch against linebackers, which allows him to get valuable separation. Last year he caught 62 passes for 973 yards, 3 touchdowns, and his blocking had improved. He is extremely versatile, he can be used as a standard TE, H-back, or slot receiver, and he is going to make some quarterback's life a lot easier this upcoming season. He is projected as a top 25 pick, and there is a high probability that he may be available when the Dolphins draft at the number 19 slot. There is lots of talk that the best Tackles and Linebackers are going to be off the board when it is Miami's turn. So the dilemma will be, do the Phins reach for a player from a position of need, or do they use the BPA philosophy, and add a potential game changing, possible pro-bowl type TE?
Comment on Facebook
comments