Should the Phins take USC WR Marqise Lee with their 1st Pick?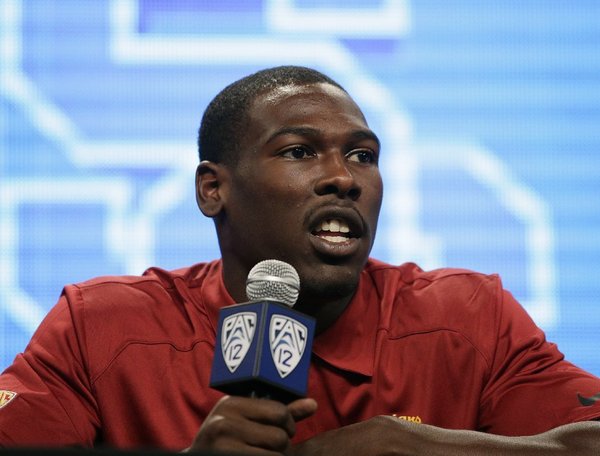 If all the top rated tackles, guards, and linebackers are taken, when the Dolphins select in the first round with the 19th pick, do the Dolphins reach for a lower tier tackle, guard, linebacker or other area of need, or do they go with the BPA (best player available) approach? Most football gambling fans would say that regardless of need, a team should always go with the BPA approach. Why pass on a Jimmy Graham, who could be a unanimous All-Pro each year, or reach for a player at a need position that may be out of the league in 3 years. At the 19th pick football gambling fans will say that there is a high probability that Dennis Hickey, and the Dolphins will have to make this type of decision. If that is the case, I would like to throw out a very interesting, and maybe even controversial option; wide-receiver Marqise Lee.
I know wide-receiver is definitely not our biggest need, and Lee had a knee injury last year, but if he is available at the 19th pick, and the top rated tackles and linebackers are off the board, the Dolphins may want to take a nice hard look at this young man. He is 5'11", weighs 192 pounds, runs a 4.52 40 and played his college ball at USC. Now Lee is a very interesting case, because based on his standards he had a disappointing 2013 season with only 57 catches for 791 yards and 4 touchdowns, and missed a couple of games with a knee injury. He had very poor quarterback play, and was suffering from a nagging knee injury most of the year, so last seasons stats, and game film does not properly reflect the type of player he is. In 2012 he was one of the best players in college football, and as a result he was a Heisman finalist, and basically carried the Trojans offense on his back. He was dominant, and a big play machine every time he touched the ball. He put up video game type numbers, catching 118 passes for 1,721 yards and 14 touchdowns. He even helped in the kick off game, averaging 28.5 yards per return, and a 100 yard touchdown in the first game of the year. The year before as a freshman, he was also a top player in the nation, catching 73 passes for 1143 yards and 11 touchdowns.
Lee has the look and feel of a number 1 receiver in the NFL. The scouting report on him, is that he is extremely fast and explosive, with great hands and route-running ability. Even though he is not the biggest or the strongest he plays bigger than his size. When healthy he is a play-maker that is very difficult to cover. He is projected to be a first round pick, and it will be interesting which team is willing to roll the dice on him. Don't forget, even though the Dolphins have some quality receivers; Brian Hartline, Brandon Gibson, Rishard Matthews, and Armon Binns all have knee issues as well. My question to Phins News Nation is if all the best tackles, guards and linebackers are off the board, and Lee is still available, would you draft him at the 19th spot in the first round?
Comment on Facebook
comments