Ryan Tannehill to start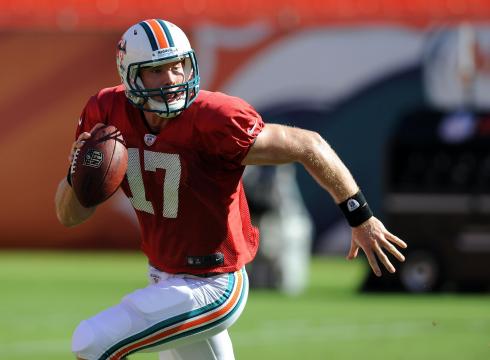 Color commentator Dick Stockton told 790-AM this morning that Ryan Tannehill will be the starting QB for the Miami Dolphins tonight when they travel to Carolina to take on the Panthers at 8pm. At the moment it appears that the starting QB race is anyone's to win, so it would make a lot of sense to give RT a chance to play with the starters and face the opponents starting defense, since Matt Moore had the chance in the 1st preseason game.
The Miami Dolphins drafted RT in the first round for a reason, and if he is performing as well as everyone is saying he is, then the correct sports betting strategy is to have him play. Rookie QB's sitting on the sideline are a thing of the past, and more importantly, if RT is even in the starting QB conversation, then I think he should get the nod, because the only way phins news fans are going to see what we have in RT is by seeing him play. Initially I thought he was going to be a distant third in the QB race, however with the unfortunate injury to David Garrard, and the hyperbolic improvement each day of Tannehill's game, there is no reason now not to throw him into the fire and see what he can do.
The sports betting strategy is that a team starts the QB that they believe will give them the best chance to win. If RT can perform well against a 1st string defense tonight, then there is no reason that he shouldn't start in the all important 3rd preseason game, and then have him ready to open the season against the Texans. It is only fitting that RT is going to start tonight against a team that showcases the reining rookie of the year in Cam Newton. Cam proved all football pundits wrong last year with his record breaking season, and that there is no time like the present to be a starting QB in the NFL.
Can RT be the Miami Dolphins version of Cam Newton? Well, the only way to find out is to have him play on day one. Everyone knows that the Dolphins are not a Super Bowl contender this year, however if RT can prove himself this year and gain valuable game time experience, then there is a chance the Dolphins can set themselves up for a more realistic playoff run in 2013. And if RT happens to play and totally suck it up, then the Dolphins will in all likely hood have a bad record this season, and this may set them up with the chance to draft USC's Matt Barkley.

Comment on Facebook
comments