Lamar Miller's chance to shine?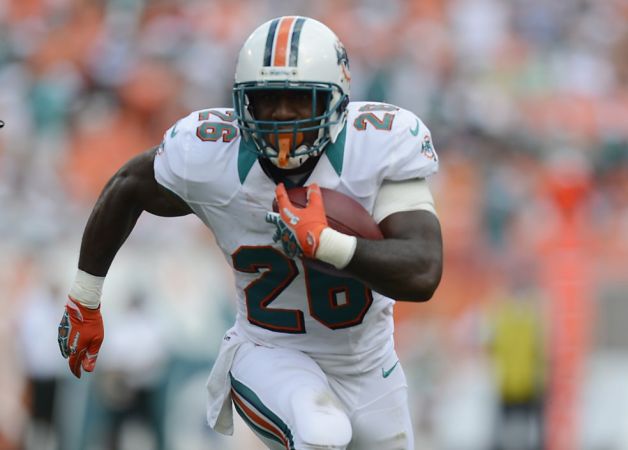 The Miami Dolphins received good news early this week that RB Reggie Bush's knee did not endure major damage, however to be on the safe side it appears that he may have to sit out a couple of games. As a result the running duties will be handed over to the duo of Daniel Thomas and Lamar Miller.
In both cases Jeff Ireland decided to trade up to draft each of these two running backs over the last two years. Now with Reggie Bush presumably out, these two players will get an increased work load, and a chance to make an positive impact on this team. Daniel Thomas has had a rough start to the year gaining only 80 yards, for a paltry 3.6 yards per carry, and two costly fumbles, and only 1 touch down. He was often injured in his rookie year, and is starting to lose his grasp on the back up running back spot.
On the other hand this next game for Lamar Miller, could be his chance to solidify his back up running back role on the team. In his limited action so far this season, Miller has clearly impressed gaining 113 yards, with a 5.9 yards per carry average and 1 TD. Even though he has only had 19 carries, and has a high yards per carry average, this has been typical for him, even when you look at his numbers from when he was playing for the Hurricanes. In 2010 he rushed for 646 yards for 6 TD's, with a 6.0 yards per carry average. Then in 2011 he rushed for 1272 yards for 9 TD's, with a 5.6 yards per carry average.
If sports gambling fans were going to wager on which running back was going to have a bigger impact during Bush's absence, than I would suggest betting on Miller. I would even go a step further and saying that not only will Lamar outperform Thomas, but he will garner the lion's share of the carries, and Thomas will become just an after thought in the Phins running game. Sports gambling fans should not be surprised if Thomas is placed on the trading block after this season, due to the emergence of Miller as a bona fide option in the running game.

Comment on Facebook
comments