Its not you its me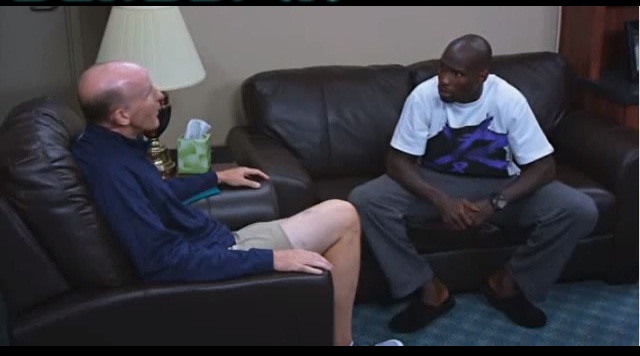 Last night was the second episode of Hard Knocks, and for Miami Dolphins fans who have been religiously following phins news, there was not much gained from the behind the scenes look at training camp. Phins news followers know that Garrard was injured, however not that it occurred will hanging out at home. Phins news fans also were well aware of Ryan Tannehill's continued success that is currently above everyone's expectations, and the ending to the Chad Johnson soap opera.
While watching the final scene where Philbin was basically firing Chad, I felt like I was watching the behind the scenes conversation of when Kim Kardashian and Kris Humphries ended their brief 40 day marriage. There was that awkward feeling of each person knowing what the outcome was going to be, in this case Chad getting the axe, and Philbin knowing he was going to fire him. Philbin was awkwardly trying his best to give the heartbreaking news as painlessly as possible, with a lot of "I like you as a person," "it's not just the arrest," "not a good fit" type of lines. Directly after this scene the HBO narrator stated the prime question that is in all of phins news fans minds, "what young receiver is going to step up now?"
The bottom line is, this gives younger guys more repetitions at practice and a better chance to make the roster. The sports betting strategy is that one of these youngsters takes this opportunity and parlays it into securing a roster spot and setting themselves up for a productive season. I am interested to see what Chris Hogan always open, can do, since he was being praised by not only players but coaches. Obviously he is probably only a practice squad guy, but it would be interesting to see him get a little more preseason game time experience.
The next preseason game should be very foretelling, in both the QB and the wide receiver race. The sports betting strategy is that which ever players standout in the Panthers game, will get the chance to be named the starters in the all important 3rd preseason game, which is the equivalent of being named the opening day starter.

Comment on Facebook
comments