Interesting addition
Earlier in the week the Miami Dolphins made an interesting addition to their roster. They claimed wide receiver Armon Binns off of waivers, after he was released by the Cincinnati Bengals. He started 6 games this year in his rookie season, and was able to catch 18 passes for 210 yards and 1 touch down. He is 6'3, 210 pounds, and was a standout receiver for the University of Cincinnati.
I am not saying this guy is going to come in here and revamp the Dolphins receiving corp, but I have seen this guy play in college and he definitely has potential. In addition, over the years the Bengals have been a pretty decent judge of receiver talent, and even though they released him to add a kicker to their roster, they were really hoping that they could sneak him past the waiver wire, and resign him. In his last two seasons at the University of Cincinnati he scored 21 touchdowns, hauled in over 130 catches for nearly 2000 yards.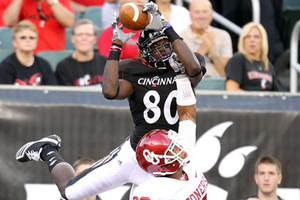 One of the biggest problems the Dolphins receiving core has had this year has been getting in the end zone. Our two leading receivers Brian Hartline, and Devone Bess, have both had career years with catches and yards, however both players have only contributed 1 touchdown each this season. Obviously we need someone who can get the ball in the end zone through the air, and it is glaringly apparent that we do not have someone on the roster yet. I am not saying that Binns is going to be the guy, however, watching him in college, a lot of his touchdowns were from a fade pass to the back of the end-zone. He is a young raw receiver, but on paper and with the right amount of coaching he has the potential to develop into a 2nd or 3rd starting receiver. Only time will tell, but at least we took a shot on him regardless of the outcome.
Comment on Facebook
comments