Another valiant effort, but same result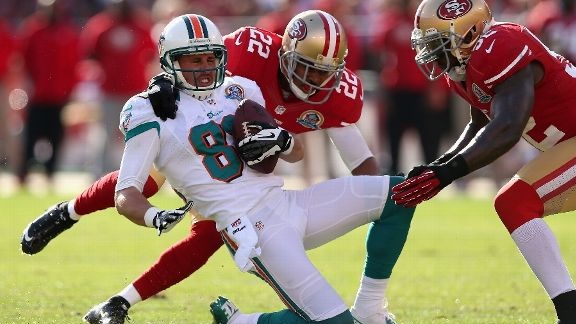 In an 8 day span the Dolphins have played two of the best football teams in the league, and in both games the Phins had a chance late in the game to tie it, however in the end they were not good enough to complete the valiant effort. Another main reason why they lost both games, is because of turnovers or stupid miscues, like roughing the kicker or walking the ball into the end-zone on a punt that should have been downed at the one yard line. In addition they turned the ball over inside of their own 20 in both games. You will never beat the elite teams in the NFL, making mistakes like these.
Another thing that we all knew, but is now becoming some glaringly obvious, is that the Phins need a big time receiver that can stretch the field. Sherman and Philbin appear to want to have a west coast style passing attack, so I would assume that this issue will be addressed in both free agency, and the draft. If USC WR Marquis Lee enters the draft, the Phins need to trade up to get this guy, he is the real deal, and would be the perfect receiver to pair with RT for the next 10 years. I would be extremely disappointed if the phins did not aggressively try to improve the WR position. They need to help out their young QB, and the best way to do that is to give him someone that other teams must prepare for each week, and at the moment nobody on offense is worthy of keeping defensive coordinators up late at night.
To be honest even though the defense played tough, and they kept both games close, there was never any moment in either game where I thought, or felt the Dolphins would win. They are not there yet, and frankly I am ready for the season to end so we can begin to acquire more talent to fill this roster.
Comment on Facebook
comments