Another sign of rebuilding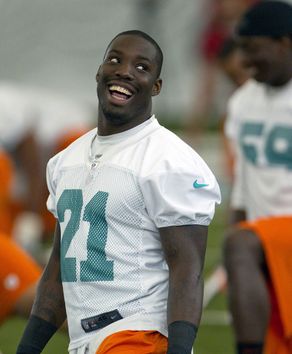 The Miami Dolphins and the Indianapolis Colts pulled off a trade yesterday that sent Miami's cornerback Vontae Davis to the Colts for a 2013 2nd round pick and a conditional undisclosed late round pick. The Colts were banged up in the secondary, and Davis fell out of favor with the Dolphins coaching staff because of lack of conditioning, attitude problems, and the acquisition of CB Richard Marshall. As a result these two sides both felt they made a great deal, which will help each of them to become a better team.
The main reason I am not thrilled with the trade is because the Dolphins secondary unit is probably their weakest unit on the team, along with their receivers. Once again this year, phins news fans get to sit back and watch the Dolphins brass, trade away a solid player at an already weak position. Ireland traded away WR Brandon Marshall to the Bears this off season for two third round picks, after only two years ago trading away two 2nd rounders to Denver to acquire him. As a result football gambling fans can agree that the Dolphins now have a major hole in their receiving unit. Now after three preseason games, where the Dolphins secondary has looked like a piece of swiss cheese, they decide to trade away former first round pick Vontae Davis. Obviously the coaching staff was unhappy with his attitude, however, lets not forget that he has 9 interceptions in his three seasons with the Dolphins. Davis has a knack for the ball, something football gambling fans can admit that the rest of the Dolphins secondary is lacking. Davis is a gamer, and will be a big boost in Indy. Now it is safe to say we have another hole at the CB spot. Also if any phins news fans saw the last preseason game against the Falcons, they will admit that Richard Marshall did not exhibit lights out corner back skills. I saw him get beat soundly at least twice. Oh, and lets not forget that the Dolphins spent a 1st round selection on Davis and are now only getting a 2nd round pick and maybe some garbage pick in the 6th or 7th round in return.
The one positive thing is that, the Dolphins are stock pilling picks (check out what Phinnation.com thinks the Dolphins will do with the extra picks this year)  for next year, something that the Patriots have done over the past few years, which has worked out for them. However, the problem for phins news fans is that as long as GM Jeff Ireland is making the decisions of who will be selected with the draft picks, then the Dolphins are still going to be in trouble. Yes, it is obvious to football gambling fans that the Dolphins are in clear rebuilding mode when, they go out and trade two valuable assets that play positions that the team is already deficient at. Now the Dolphins are even weaker at CB and WR, before the 2012 season even starts and sorry phins news fans, but that is a fact. It is true that now we have additional draft picks to address these two positions, but if Ireland is not going to stop trying to bunt is way on base, instead of swinging for the fences, then it doesn't matter how many picks the Dolphins horde. Next year the Dolphins better be using their 1st five picks (1 in 1st, 2 in 2nd, 2 in 3rd) on the wide receiver position and the secondary.

Comment on Facebook
comments