AFC East QB comparison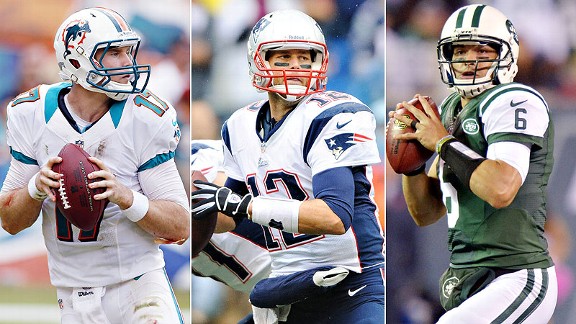 While watching the Miami Dolphins last game, announcer Tim Ryan made a very interesting comment in which he said that at the moment he felt that Ryan Tannehill was already the second best QB in the AFC East. Being a Phins fan, clearly I am a little biased, however I believe that his statement is pretty accurate. Below I want to take a deeper look at the 4 QB's in the AFC East and make a case for why he is correct in his analysis.
1 New England Patriots Tom Brady – Obviously the number 1 QB in the AFC East is Tom Brady, and at the moment he is ahead by a long shot. All of his stats are far out pacing any other QB in the division, however the all important stat of wins and losses has him and his team in a dead heat tie with every other team in the division. His byline is 65.8% completion percentage, 1845 passing yards, 10 TD's, 3 INT's, 13 sacks, 97.2 QB rating, and an average of 308 yards passing per game. Football gambling fans would look at this and say he is having a typically successful season so far, however something obviously is missing with his team, because no football gambling fan in their right mind would have thought the Patriots would be 3-3 at this point in the season.
2 Miami Dolphins Ryan Tannehill – The main reason he gets the number 2 spot over Ryan Fitzpatrick is because he is doing more with less. Lets face it most football gambling fans had the Phins finishing in last place in the division, and barely winning 6 games. His stats may be a bit pedestrian, but when you delve deeper, it is clear that he has been clutch when he has needed to be, and has rarely made plays that has hurt his team. If it was not for a few untimely missed field goals, RT would have his team at 5-1 and ahead in the division. His byline is as follows; 59.% completion percentage, 1454 passing yards, 4 TD's, 6 INT's, 11 sacks, 76.5 QB rating and and average of 242 yards passing per game. The biggest thing that needs to be turned around is his TD to INT ratio, but please lets not forget that he has only played 6 NFL games so far, so it is only a matter of time before this ratio improves for the better.
3 Buffalo Bills Ryan Fitzpatrick – Many football gambling fans thought that this may have been a break out year for the Buffalo Bills, however they appear to be their same inconsistent selves. This is not a coincidence either, because Fitzpatrick is the epitome of an inconsistent QB. Sometimes he plays great, and other times he just looks terrible. This is another reason why RT gets the nod over Fitzpatrick, because phins news fans can attest that RT play has not only been consistent, but he has been consistently getting better with each passing week. Fitzpatrick's byline is as follows; 57.9% completion percentage, 1210 passing yards, 12 TD's, 8 INT's, 7 sacks, 81.5 QB rating and average of 202 yards passing per game. For an 8 year veteran in the league these stats are not blowing away the Rookie's performance, and hence he is demoted to third.
4 New York Jets Mark Sanchez – Not only is Sanchez the easy choice for worst QB in the AFC East, but it can be argued that he has been one of the worst QB's in the league so far this year. I will actually give him a little bit of respite, since he has had to endure a lot of injuries on offense. However, the facts are the facts, his stats are terrible for a starting QB in the NFL, and I would not be surprised if Tebow eventually ends the season as the Jets starting QB. His byline is as follows; 49.7% completion percentage, 1125 passing yards, 8 TD's, 6 INT's, 10 sacks, 70.9 QB rating and an average of 188 yards passing per game. Nothing else needs to be said, because I think these high school numbers speak for themselves.

Comment on Facebook
comments